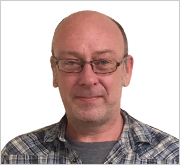 We're happy to announce that Steve Lamb joined us last year as our new Software Developer. He's currently involved in several development projects, including Agco E-Commerce, API Server and Price Tapes.
Before joining Ibcos, Steve worked within the development team at Zen Logic, where he helped develop the My VCode app, which was a QR-style device. Prior to that, he worked as a website developer and helped create Liverpool Victoria's website amongst others!
"My role at Ibcos keeps me very entertained!" said Steve. "I really enjoy working with the team and learning new development skills. I find Ibcos Gold software very interesting – it's a huge system that has been developed for over 40 years, and there is a lot to learn about it. This keeps me on my toes and gives me a challenge!"
Steve's favourite hobby is football, and he is an avid supporter of AFC Bournemouth. He's also a big fan of music. In fact, he's even learnt to play the guitar!
While we're not sure if Steve's musical skills will come in handy at this job anytime soon, 2019 is shaping up to be an exciting year for him, with plenty of projects on the go. We're very excited to see what he comes up with!