It has been another great year for machinery dealers. The trends are positive, and we are very happy to see so many dealers growing their operations and finding new successes.
For us, it has been the year of change. We have focused our efforts this year on revamping many of our teams and processes as well as looking at our products and services to ensure they meet your needs in the most effective way possible. We want to be better at listening to you, so we devoted plenty of our resources toward achieving that goal.
Here are some of our biggest 2018 highlights:
Company Structure & Staffing Changes
In an effort to deliver new software products faster and listen to you more closely, we have created a new team and injected new blood into two old ones. To drive our restructuring efforts, we have hired three new department managers.
Nicky Warren, our new Product Manager
With 20 years of experience in software product delivery, Nicky Warren is helping us actively seek out customer feedback and streamline the delivery of new software products.
The Product Team is a new function within Ibcos. Its aim is to analyse the market and develop a product that meets the current and future needs of a dealership. Nicky is currently supported by three team members in the business analysis and project implementation roles, with a fourth member joining in 2019.
The team has been kept busy with the active use of ideas@ibcos.co.uk – and they are making sure that all your suggestions are responded to very promptly!
Mike Jones, our new Development Manager
Mike has nearly 20 years of experience in software development across multiple industries. He is passionate about improving the quality of software and introducing modern development tools and processes to increase productivity.
Focused on improving productivity in 2018, Mike added three new team members with up-to-date skillsets to support our plans for the product. In 2019, he will focus on a fundamental change in the way we manage QA.
James Buchanan, our new Sales Director
James came over to Ibcos from Kramp. He has nearly 10 years of sales and account management experience, most of which was gained in the Agri-Horti parts industry. His big focus is on regular customer engagements and strategic account planning.
Team departures
This December, we are also sad to say goodbye to two long-serving staff members – Alan Baker, our Product Specialist, and Michelle Kyte, our Licence Administrator, both of whom are relocating to other counties or countries.
Process Changes
To complement all the staff changes, we have introduced several process improvements within two of our biggest teams:
Support
Our focus for the Support Team in 2018 has been on improving response times. To help with that, we added dedicated resource for handling emailed tickets and those submitted via the Customer Portal. We also hired three new support staff members and invested in the skills development of the entire team.
We are looking to expand the team further in 2019. Our ticket survey results suggest that you are recognising the improvements in these areas: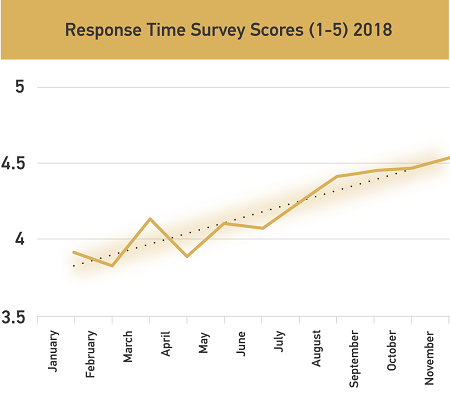 Consultancy
In 2018, our Consultancy Team focused on modern and efficient ways to improve Gold product knowledge amongst the user base by introducing online videos, remote training and webinars.
Access to this content by our users is not as great as we would wish, which is why we encourage all of you to visit our Customer Portal and view the videos and webinar recordings on the topics that interest you. Simply follow this link.
We would also like to see higher attendance at live webinars, so if you would like to join one but are unsure of how to, please contact us for guidance. To review our webinar recordings, go here.
Products Delivered
Of course, none of the additions and changes would make sense if we did not deliver several big new products this year.
Here is the full list of our 2018 deliverables:
Enhanced Fixed Assets module

Making Tax Digital functionality for version 6 and 7 customers

GDPR functionality

Gold Service

New manufacturer and supplier integrations delivered or in pilot with selected dealers:

JCB warranty & JCB health check 

AGCO warranty 

Hitachi finance  

CLAAS PIM 
Looking Forward
2018 is not yet over, but we already have big plans for 2019! Firstly, we are looking to add new finance, e-billing and service interfaces. We have also been developing some exciting automation to be launched next year, including downloadable software releases and price updates.
However, our ultimate goal is to develop even deeper business relationships with each of you and become more responsive to your needs.