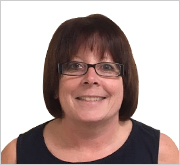 Join us in welcoming Sarah Hill, our new HR Advisor. She will be responsible for everything HR-related at Ibcos and two other Constellation Software businesses in the UK.
Before joining Ibcos, Sarah worked as the Reward Advisor for Royal National Lifeboat Institution (RNLI), where she led a project to implement a robust vehicle policy and assist in cost savings.
"I joined Ibcos to make a difference and support the business in ensuring all HR matters are dealt with in a professional and timely manner," said Sarah. "'Firm but fair' is one of my mottos."
In her free time, Sarah likes walking, running and exercising in general to stay fit and young. In fact, she even completed SAS Pen y Fan 2017. Sarah also has two grandchildren to keep her on her toes.
By looking after our employees, Sarah will ensure they deliver better results for the company and our customers. We can't wait to see what she has in store for us!