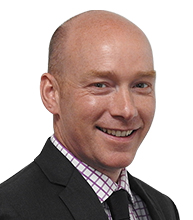 We're happy to welcome James Buchanan to the Ibcos family, who will be taking charge of our sales team as the new Sales Director.
James has occupied several leadership positions throughout his lengthy career, which makes his new role at Ibcos the perfect next step.
He began to show his leadership skills while working at Associated British Ports, where he secured the position of Operations Manager. This was both an operational and commercial role, which included dealing with imports, exports as well as cruise ship visits and turnarounds.
James then moved into retail store management for the Home Retail Group, and after that, account management at Würth UK. For the past six and a half years, he's been working for Kramp UK – first, as the Internal Sales Manager responsible for product and customer specialists, and then in a national role, which involved looking after account managers, alongside business solutions and retail consultants.
One of his proudest achievements was implementing several key process improvements at Kramp UK, which significantly enhanced the customer experience. To achieve that, he restructured and recruited a professional external sales team and developed a "customer-first" sales strategy.
"I am looking forward to applying my sales knowledge at Ibcos to further develop the services it provides to its customers," said James. "After all, Ibcos is an exciting company with a lot to offer to its dealer network. I relish the opportunity to learn more about the software industry and develop a sales strategy that will help grow Ibcos' customer base and do more business with its existing customers in the UK and Ireland."
When he is not busy working, James loves road and mountain biking in the UK and abroad, as well as running, regularly. He also enjoys exploring new destinations around the world and taking scenic photos of the places he visits.
Given James' knack for creating and developing processes, we're 100% sure that he'll make an enormous contribution to Ibcos down the road. We're excited to have him aboard!