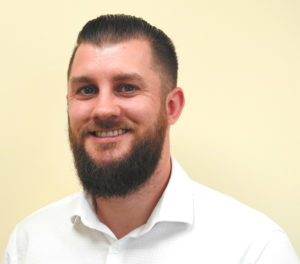 We are happy to announce that Kris Illingworth has joined us as the new Sales Consultant, who will serve the northern territory.
He's been in sales for over 10 years, having started out as a calls and lines specialist at BT and later on transitioning to Inclarity where he was selling Hosted VoIP telephone systems to businesses of all sizes.
After that, Kris moved to Datel, one of the UK's largest Sage business partners, to initially be responsible for lead generation. However, he quickly advanced into Account Management for the Sage 200 customer base, where he was responsible for helping companies across various industries find solutions to their ERP-related problems, streamline their day-to-day processes, and in turn, save money.
After serving at Datel for seven years, Kris finally joined our team. What Kris likes the most about us is our involvement in the agricultural industry, which is something he's grown up around – as both his father and grandfather were farmers when he was younger.
"This new role enables me to be around the industry that I've grown up with, whilst still enabling me to remain in a sales role, so I've got the best of both worlds," said Kris. "I'm also excited to work for Ibcos because it's so well respected in this industry. It's clearly the go-to system for many dealerships, and I'm excited to be a part of that."
Kris is based in Warrington – in the North West of England – where he's lived his entire life. He has a 10-year-old son and he is the assistant coach of his football team. His other hobbies include hiking, going to the gym and spending time with his family.
We look forward to seeing Kris further develop his sales expertise as well as put his background in farming to good use.