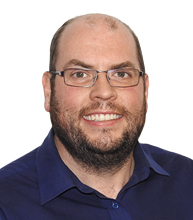 We are happy to announce that Mike Jones is taking charge of our software development team as the new Development Manager.
He has over 20 years of experience in the software industry, as both a leader and engineer, having worked for prolific companies like Abel Learning and Chevin Fleet Solutions.
His primary responsibility here at Ibcos is to ensure that the development team has the skills, knowledge and ability to make Ibcos Gold, our dealership management software, the best product it can be.
"I am very excited at this opportunity," said Jones. "I look forward to being part of the next chapter of Ibcos and the Gold product."
Since joining Ibcos in 2016, he has been heavily involved with the mobile and web components of Ibcos Gold, which are recent software initiatives.
When not at work, Jones devotes most of his time to his family, while the rest of it is spent on tinkering with old computers as he finds great satisfaction in getting them to work again.