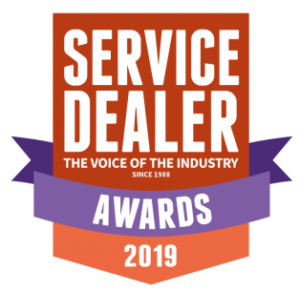 We are pleased to announce that five of our customers received the prestigious Service Dealer Award during the ceremony held at the Double Tree by Hilton Oxford Belfry Hotel in Thame, Oxfordshire on Thursday, November 21st.
Service Dealer Awards, first presented in 2003, honour the best agricultural dealers in the industry, with the Award winners being selected by a judging panel from nominations submitted by dealers, manufacturers, and suppliers.
Service Dealer hosts the Awards ceremony annually on the same day as its one-day conference where participants can network with their peers, learn new best practices and have some fun.
Like last year, Ibcos was the event's network sponsor, alongside Honda, Kubota and many others. The team had a stand in the main hall during the conference, where everyone gathered for reception, coffee breaks, lunch, and post-conference refreshments. Following the conference, the Ibcos team joined everyone else at the Awards ceremony to honour all the winners.
Here's the full list of the Ibcos customers who won the Service Dealer Award:
Winchester Garden Machinery – Garden Machinery Dealer of Year
Lister Wilder – Farm Machinery Dealer of the Year
Buxtons Limited – Forestry Equipment Dealer of the Year
Gibson's Garden Machinery – Professional Turfcare Dealer of the Year
John Rowland, Engineer, Turney Groundforce – Star of the Dealership
Winchester Garden Machinery – Overall Dealer of the Year
"Congratulations to all the winners of the 2019 Service Dealer Awards," said Collette Convery, the Managing Director at Ibcos. "As always, it's great to see our customers on this list. We're also very proud of continuing to take a very active role in the event. It's an opportunity for us to meet our customers and other dealers in person and learn about their challenges and victories first-hand."