Key Features
AGCO Finance
We are pleased to announce the integration with AGCO Finance! By utilising this new stocking finance scheme, AGCO dealers can apply for financing on used machines that have been part-exchanged for a brand-new AGCO variant.
As an AGCO dealer, you can request financing against a validated wholegood directly from Gold, with the request itself being securely transferred and handled in AGCO Finance.
Workshop Labour Hour Amendment
We have added the ability to amend labour hours on live workshop jobs. With this feature, you can:
Select a labour line on a live workshop job and amend both the hours and the value fields for the line. Any associated timeclock audit record will also be updated.
Report the amended labour lines via the Labour Audit Trail.
NOTE: Only users who have this feature enabled in their security file can use it. To enable it, go to Personnel Security File > Security Option > Workshop Job and click on "Change Historic Labour Hours."
Planned Maintenance
We have made a number of fixes to the Planned Maintenance module to improve its quality and added several enhancements to Workshop Entry – Wholegood Screen.
When creating a retail job for a wholegood that is on a Planned Maintenance contract, the words "On Contract" are displayed next to the wholegood number and a new function key has been added – "Contract" – to list the associated contracts.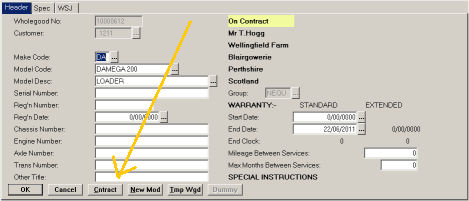 Book Additional Training or Consultancy
If you would like to find out how you can further benefit from any of the new enhancements or if you are interested in getting even more out of your Gold solution, why not consider some additional training or consultancy? Our team of experts are always on hand to ensure our customers are using the system to its fullest potential and achieving the maximum return on their investment with Ibcos Gold. To book training or consultancy, please contact your Area Sales Consultant or our Poole Office at +44 (0)1202 714200 or email sales@ibcos.co.uk.
Request an Upgrade
All developments are completed in the latest version of Gold, currently v7.10. To obtain the latest update for your system, please e-mail updates@ibcos.co.uk. Users who have earlier versions of Gold, particularly v5.6-v6.4, will need to upgrade to v7 in order to take advantage of the new functionalities. For more information on upgrades, contact your Area Sales Consultant or the Ibcos Poole office at +44 (0)1202 714200.