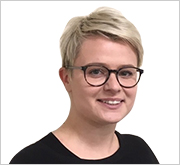 Weronika Kuzior joined our team as the new Support Analyst. She'll be working with our customers to help solve any technical issues they may have. We're very happy to have her!
Previously, Weronika worked a Subject Matter Expert for a multinational technology company that specialises in Internet-related services and products. She was responsible for supporting one of their mobile-related products, providing product education and support improvements on the EMEA market. Her career goal is to become a Product Marketing Specialist within the IT/software industry.
"I've decided to join Ibcos because I wanted a challenge," said Weronika. "I like challenges as much as I like solving tech issues. I also hope to learn more about the software industry."
When she's not at work, Weronika loves traveling, learning languages and photography.
We look forward to seeing Weronika help us solve our latest challenges. 2019 is going to be packed with new things, and not all of them will be easy to accomplish!