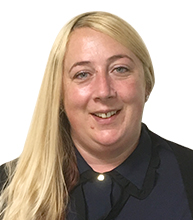 Please say hello to Lucy Cox, our new Finance Administrator, who will be taking over licensing from Michelle Kyte and assisting Richard Benson-King, our Financial Analyst, with the financial reporting and any other finance tasks that will be sent her way.
For the last six years, Lucy has been working for a defence and security company contracted by the Ministry of Defence, but sadly, it relocated to Portsmouth. Since then, she has tried out a couple of short-term contract positions until eventually coming to Ibcos.
"Ibcos seems like a great company to work for and so I was pleased to be offered the position at their Poole office," said Lucy. "I hope to evolve this new role and become a key part of the team. The people here are friendly and welcoming, which says a lot about the company."
Lucy loves dogs. She has a white German Shepherd, whom she takes on lovely walks around the Purbecks; he enjoys a bit of fossil hunting and a swim in the sea, which sounds lovely. We hope he joins us for the Take Your Dog to Work Day, just like these brilliant canines.